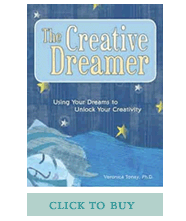 Click here to view The Creative Dreamer's table of contents.


The Creative Dreamer: Using Your Dreams to Unlock Your Creativity

The Creative Dreamer offers a way to use your dreams to understand and enhance your self-understanding and creativity; we are all creative dream makers. Uncover themes and elements—such as children, water, obstacles, helpful or threatening dream characters, and sexual dreams—that often appear in creative dreams, and learn how those elements can help express creativity. Then enter the deepest territory, with keys to unlock your creativity in the face of sometimes powerful opposition from without and within.

Exercises are sprinkled throughout the book which help expand and enhance your creative potential, using your unique dream themes to intepret your own dreams, work through your creative blocks, and form a creative community. As you move through the book, poetic passages slowly lead you into the psyche's inner dark woods and back out again, finding and bringing with you the treasure of your own creative spring.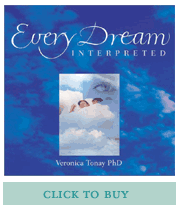 Click here to view Every Dream Interpreted's table of contents.

Excerpts from Every Dream Interpreted:
Do studies demonstrate gender differences in dreams?
Even though I'm in my forties, I often dream of my childhood home. Is this unusual?
Every Dream Interpreted, published in the UK, won 2nd place in the Readers Preference Annual Awards psychology book division for 2004. Click here to read the review by Reader's Preference.
This book will help you understand more about dreams and the major themes and hidden nuances in them.
The book has two sections. The first gives answers to the most commonly asked questions about dreaming and dreams. For example, you'll learn what it means if a dream character turns into someone else, or you dream a baby is born, or you are being chased in a dream. This section is also full of information about unusual dreams, ways to sleep more and remember more dreams, and what dreams say about your relationships and work life.
The second section of the book is an A-to-Z guide on the most frequent elements appearing in dreams, providing background on dream symbols as they appear cross-culturally, based on research by psychologists, anthropologists, and mythologists.
Taking both sections together, you'll be able to understand your dreams more deeply than before.